Norman Island Snorkeling Safari
Norman Island, The Caves, the Indians, and Blackbeard's Thatch Cays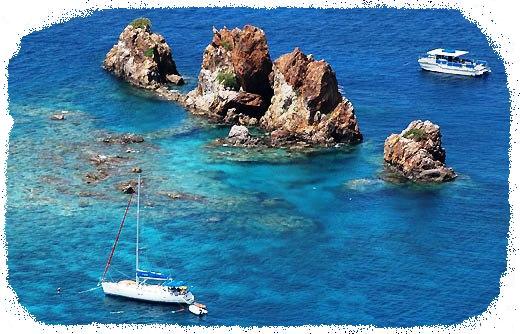 Back by popular demand! If you love snorkeling, we have a tour for you! Are you ready to hand feed hundreds of fish as we snorkel? Get ready… because we'll take you right into a "National Geographic Moment"! Also, a short Eco-hike up Spyglass Hill & lunch available on board the Willy-T.
We head to the south side British Virgin Islands directly to "The Indians" off Pelican Cay, where we will snorkel these spectacular rock formations that burst out of the blue Caribbean Sea. Incredible variety of corals and fish… and it only gets better!!! Next we go to "The Caves" of Norman Island… popularly reported to be subject of Robert Louis Stevenson's Treasure Island. Here is where we feed literally hundreds of fish and take you right into a "National Geographic Moment."
Remember to get an inexpensive underwater camera at the Dive Shop before we leave… because your friends will never believe what you will experience here as we feed the fish from our bare hands while snorkeling!!! Relax mon… they're all as tame as puppies!! Next… are you ready? It's time to head to the William Thornton (referred to by those in the know as the Willy-T)… a floating Pirate Ship bar/restaurant in the historic, yacht filled anchorage of Norman Island called "The Bight". They have a popular, affordable dinner menu and, yes, what you have heard is true… The Willy-T is the wildest partying spot in all the Virgin Islands… every night of season! We do private night trips to the Willy-T by special reservations. Give us a call for availability and pricing.
Full day excursion. $99.00 per person EVERY SUNDAY & WEDNESDAY (Minimum 6 people).
Leaving JVD Scuba/Great Harbour, Sopers Hole/West End Tortola
Private Charter available any day by special reservation: Only $550 for up to 4 people (each additional only $50p/p)