Sandy Cay

This 14 acre nature preserve is owned by the Foundation of the late philanthropist Lawrence Rockefeller.  Sandy Cay has the character of an ideal tropical isle and also contains a well-maintained trail that will lead you on a natural journey around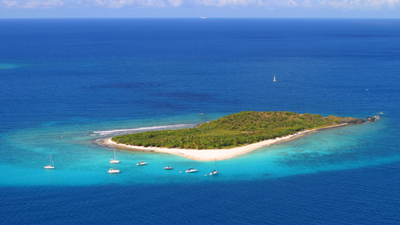 the island.  Sandy Cay is geologically interesting because the Ease side is volcanic, the west side
is more coral reef atoll, and in the middle is a wetland area that is occupied by many different species of birds.  In addition to the towering coconut palms surrounding the white sand beach, you will see Sea Grapes trees, Banyan trees, Turpentine trees, and over 90 different varieties of local flora. At the East end of the island you will be towering above surf side cliffs and will have a 360-degree of all the surrounding islands and reefs!!!  There are no mammals on Sandy C
ay, which is controlled for ecological reasons, however you will see many varieties of crabs and reptiles, including crested anoles and geckos. There are some interesting reefs off Sandy Cay and the wall is loaded with a variety of juvenile fish life and rare Staghorn and Elkhorn Coral.  Sandy Cay is an excellent stop for any vacationer, whether for a few minutes, hours, or all day.
Sandy Spit

This small island of approximately one acre in size is probably the most photographed piece of land in all the BVI!
It is exactly what most people have come to the Caribbean to experience: a picture-perfect tropical deserted island with the ideally placed coconut palm in the center surrounded by a barrier reef!  It has been the backdrop for many commercials, magazine covers, articles, and advertising campaigns. This coral reef atoll is called a "Spit" because of the small sand dune that has immerged from the ocean by the surrounding barrier reef.  Although the island changes shape throughout the year due to the sand moving around in the storms and ground seas, Sandy Spit still withstands the toughest weather with Sea Grape trees, Sea Purslane, and a few Coconut Palms holding it all together. There is a magnificent sloping coral reef and wall off the South side that is easily explorable by snorkeling.  Sandy Spit is a must do when visiting JVD!
BVI Eco-tours offers weekly excursions visiting Sandy Cay, Sandy Spit, Little JVD, and can also get you to the Bubbly Pool and Diamond Cay.